DONE RIGHT HOME INSPECTIONS LLC
HOME INSPECTIONS
The purchase of a home is one of the single biggest financial decisions you will ever make. I've been there several times and the first home my wife and I purchased we did not get a home inspection. In fact we didn't even know such a thing existed. After moving in and finding out about home inspections we sure wished we would have known about it and had one done. Even though we loved our first home there were several problems and issues that we missed and that a good home inspection could have possibly found to help us in our purchase. I have personally had several home inspections conducted on homes I have previously owned and including the one my family and I live in now. Out of those several home inspections which I was present for all of them I would only consider a couple of them as being a "DONE RIGHT HOME INSPECTION". This fired my passion to become a certified home inspector and conduct home inspections for clients in the manner I would want an inspection done for me and none less.
Let me help you in this very important financal decision. I will inspect your home as if I was buying it myself!
Why Get A Home Inspection?
As most of us do when we finally dive into purchasing a new home it's a very exciting time. It's human nature for most of us to not be able to get past that initial excitement to conduct a very close inspection on the home were going to purchase. I know my wife and I done the same thing not just on our first home either. Having another set of eyes conduct a home inspection can greatly help you in your home buying process. Having a certified and trained home inspector is just a smart choice!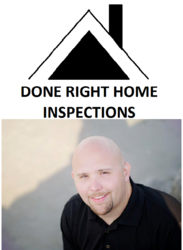 *** ALL LAW ENFORCEMENT, EMS, FIRE, MILITARY ACTIVE OR RETIRED WILL RECEIVE A 10% DISCOUNT JUST PRESENT YOUR I.D.***
**WV Certified Home Inspector & Insured**
What To Expect?
If you chose to have your home inspection done by DONE RIGHT HOME INSPECTIONS I guarantee you I will give you my very best 110%. I still firmly believe in "Do unto others as you would have them do unto you Matthew 7:12". When I chose a home inspector and had them conduct my home inspection I wanted 110% and my clients will receive nothing less. I encourage the client to be present or stop by at the end of the inspection so the client can be shown in person any areas of concern, safety issues etc. I strive to make the home inspection process un-stressful and not worry my clients but be completely honest in my findings and to explain my findings in a way they can understand them.